requests

Want to hear something in particular? Then request it from the on-air dj.

Start by typing in the artist:


General Geek
Pocky & Pepero - January 18 2014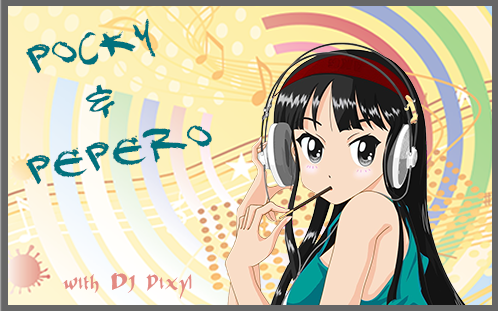 Every Thursday during Asian Insanity, I bring you the latest music and news from Japan and Korea. The topics of discussion this week were the live action of Black Butler's character spot releases, Dragon Ball Z: Battle of Z teaser, Dark Souls II's 'Cursed' Trailer... and more!

Check it out!
Later this month, January 28th to be exact, Namco Bandai Games will releasing Dragon Ball Z: Battle of Z in North America for PlayStation 3, PlayStation Vita (digital only), and Xbox 360. The game will be available in Europe on January 24 and in Japan on January 23. They have also confirmed that the game will also be released in Europe, Latin America, and Brazil.
This past week a trailer was released that details the game's system. The game allows players to customize their fights by making strategies with four different character fighting styles.
"In the "team melee action" game, up to four players can play cooperatively, or eight players can engage in a massive battle royale. The game will feature four different battle types, and a full-featured solo play. The game has online multiplayer support, and players can work together on attacks such as "Synchro Rush" or boosting each other's health via "Revive Soul."
Players can also form "dream teams" such as the "ultimate Son Goku team" (composed of four different forms of the hero from regular to Super Saiyan God) or a team of all forms of Frieza. Players can take on colossal bosses in 360° all-range battles. The game has 60 exclusive missions and over 70 different playable fighter characters, including the God of Destruction Birus and his companion Uis from this year's Dragon Ball Z: Battle of Gods film."
This past week a trailer was released for the upcoming dark action role-playing video game Dark Souls II.
The video highlights the bonuses available to those who pre-order the game, such as a metal case and soundtrack. The special edition also includes a cloth game map, a 12-inch warrior knight figurine, and an art book.
The video also shows new gameplay and cutscene footage of the protagonist facing off against fearsome monsters.
New York Times Best Selling Manga
1 ATTACK ON TITAN, VOL. 10,
2 ATTACK ON TITAN, VOL. 1,
3 MAXIMUM RIDE: THE MANGA, VOL. 7,
4 ATTACK ON TITAN, VOL. 2,
5 NARUTO, VOL. 63,
6 ATTACK ON TITAN, VOL. 3,
7 ATTACK ON TITAN, VOL. 9,
8 BLACK BUTLER, VOL. 1,
9 SAILOR MOON SHORT STORIES, VOL. 2,
10 SOUL EATER, VOL. 3,
This weekend, the live-action adaptation of Black Butler will hit theaters in Japan. With that they have released four character promotional videos that highlight Sebastian, Shiori, Hanae, and Lin.
Sebastian (played by Hiro Mizushima)
Shiori (played by Ayame Gōriki)
Hanae (played by Yuuka)
Lin (played by Mizuki Yamamoto)
Synopsis of the film:
While the original manga is set in 19th century England, this new film is set more than 130 years later in 2020, in an Asian city where Western and Asian cultures freely intermingle. Since only males can take the reins of the Phantomhive family, a young woman named Shiori dons male clothes and the name Kiyoharu Genpō to lead the massive Phantom Corporation.
The world Shiori lives in is divided between East and West, and she works as an intelligence operative (nicknamed the Queen's Watchdog) for the Queen of the Western nations, who is trying to unite the world. The Queen tasks Shiori to solve a "serial mummified murder case" as well as the disappearances of a few women. Before long, Shiori manages to discover a "black invitation" that ties the two incidents together, but that invitation leads her to a world she should not have entered, and she is cornered into a dilemma.
Final Fantasy Tactics director and Final Fantasy XII creator Yasumi Matsuno launched a Kickstarter for Unsung Story: Tale of the Guardians, a tactical role-playing game for iOS, Android, PC, Mac,and Windows tablets.
http://www.kickstarter.com/projects/482445197/unsung-story-tale-of-the-guardians
The game's timeline follows "many chapters of the sprawling war-torn history of the fantasy world of Rasfalia. The central plot follows the struggles of heroes who fought in the Seventy-Seven Years War between great kingdoms and empires." Each hero's story consists of one episode, with each episode containing multiple stages of gameplay.
The project is looking to raise US$600,000 by February 14 and as of press time has raised US$251,487.
Shingeki no Kyojin ~Jiyū e no Hōkō~ (Attack on Titan: Howl Toward Freedom) game will release a new iOS and Android app within the next few days based on Hajime Isayama's Attack on Titan manga and anime.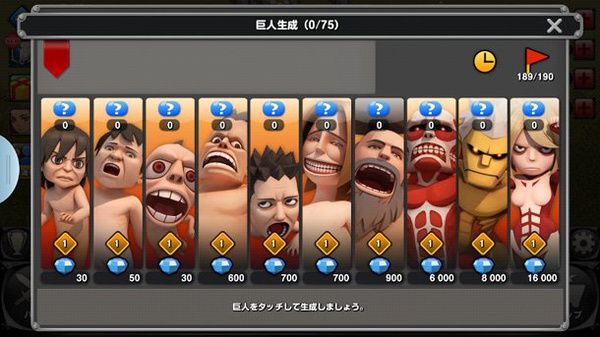 players play as a character who has been exiled to the world outside the wall. Players must build a town outside the wall and grow that town by manufacturing items as well as using titans and exploiting resources from other players. The game will feature Eren, Mikasa, and Levi, along with an original character named Filetta, who will teach players how to survive outside the wall.
Featured MV of the week: Royal Pirates - Drawing the Line
---